GBM Blog
Google celebrates Professor Maathai's birthday with a Google Doodle
April 12, 2013 - 11:45AM
It has been 18 months since the Green Belt Movement said goodbye to our beloved founder; however the legacy left by Nobel Laureate Professor Wangari Maathai is still remembered and celebrated worldwide.
Google is the latest of many to commemorate GBM founder and Nobel laureate. The international internet group paid remembrance to Professor Wangari Maathai by celebrating what would have been her 73rd birthday, on April 1st, with a special Doodle uploaded on its homepages across Sub Sahara Africa in her honour. It is a wonderful picture and a touching tribute, we hope that next year her brithday is remembered worldwide.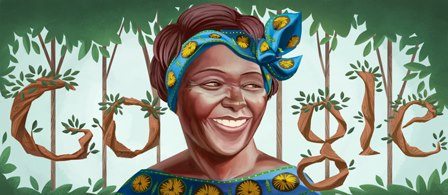 It was created by the Google Doodle team to:
"…commemorate Professor Maathai's endless achievements which continue to be put to practice today. She was the first female doctorate holder from East Africa. She also founded the Green Belt Movement in 1977, which has planted 51 million trees and empowered African women by helping them develop new skills and educate themselves. Maathai was the first African woman to receive the Nobel Prize for Peace."
The Wangari Maathai doodle ran for 24 hours, from midnight on 31 March to midnight on 1 April. Google Doodles, which are customizations of the Google logo were started in 1999 by Google Webmaster Dennis Hwang. He was an intern at the time when he was asked to design a logo for the US' 4th of July celebrations in 2000.