News
Newsletter: Season's Greetings from the Green Belt Movement!
December 19, 2013
Season's Greetings from the Green Belt Movement!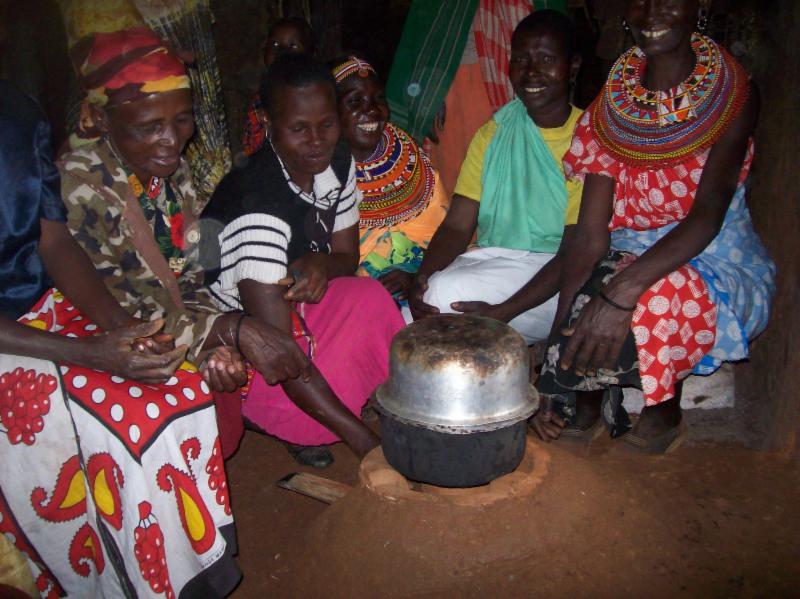 Greetings and happy holidays from the Green Belt Movement! We write to offer our sincerest gratitude for your generous support over this past year and as the year comes to a close, to share with you some highlights of our achievements in 2013.
This year in Kenya, GBM implemented an integrated watershed conservation strategy for the Aberdares Mountains in the Upper Tana Basin. As part of this strategy, renewable clean energy solutions were introduced in the Samburu West Constituency (pictured right). These actions have been made possible through a partnership between the Schooner, Yves Rocher, and the HSH Prince Albert II of Monaco foundations.
In addition, GBM and Waterstone, a Norwegian sustainable textile manufacturing company that seeks to contribute to a cleaner environment and promote innovative green business opportunities, initiated a pilot bamboo project in Muranga County. The aim of this initiative is to use bamboo as a possible way to address climate change and to develop bamboo-based businesses to help secure energy and business opportunities for rural livelihoods.
Additionally, we are delighted to announce the Wangari Maathai Institute for Peace and Environmental Studies (WMI) as the hub for the Partnership on Women's Entrepreneurship in Renewables (wPOWER) with support from the U.S. Department of State. This clean energy initiative looks to successfully integrate women into the energy access value chain while also raising public awareness of the transformative role women have in building green economies.
On the website, listeners will have access to an online giving portal to make donations to the charities mentioned, including GBM. Follow us on Facebook andTwitter to find out more about the BBC Radio 4 Appeal and Sir Jonathon Porritt!
Ring in the New Year with GBM by joining us on Sunday, January 19, 2014 at 7:55 GMT on BBC's Radio 4. The BBC Radio 4 Appeal can be accessed worldwide from the BBC Radio 4 Appeal website. Meanwhile, you can listen to Jonathon Porritt's short personal statement here.In conclusion of this year's accomplishments, we are also delighted to announce that GBM has been selected for a BBC Radio 4 Charity Appeal. Broadcast in the United Kingdom but available to listen and to participate worldwide, this wonderful opportunity will spread awareness and promote GBM's efforts in Kenya with listeners in the UK and around the world, while encouraging donations to GBM's efforts. We are fortunate to have the support of the Honourable Sir Jonathon Porritt, British writer, environmental activist, and former sustainability advisor to the British Government, as he will be our celebrity representative for the recording of the Appeal.
As 2013 comes to a close, we continue to rely on our friends and supporters to help transform livelihoods through GBM's work on the ground in Kenya. Please consider an end of year donation to the Green Belt Movement to help us continue this important work throughout 2014 and beyond. If you wish to make a donation, you may find instructions here.
Thank you again for your support and as we celebrate the 50th anniversary of Kenya's independence we wish you a very happy holiday season and new year.
Best wishes,
The Green Belt Movement